ARTICLES / PUBLICATIONS







From Music to Sound


By Makis Solomos
Szlavnics's composition, Gradients of Detail, is considered in detail.
Engl. edition: Routledge, 2020.
(orig. French edition, see below: 2013)






Being Time: Case Studies in Temporality


By Richard Glover, Bryn Harrison, Jennie Gottschalk
Szlavnics's composition, Gradients of Detail, is considered in detail.
Bloomsbury, 2018.






During a Lifetime, Portrait CD


Performers: Konus Quartett, Apartment House
Another Timbre at108, February 2017.

== To order, please visit Another Timbre's website ==
== or send an email to: cd (at) chiyokoszlavnics.org ==







Experimental Music since 1970
By Jennie Gottschalk. Cover art, drawings,
and description of work.
Bloomsbury, 2016.





Zeichnen zur Zeit - Einzelporträts
Article by Reinhard Ermen, with nine drawings.
Kunstforum, Issue 231, Feb.-March 2015.





O Glissand-o!
Short poetic text.
Kunstmusik 16, World Edition, Fall 2014.





"Der unfassbare Klang: Notationskonzepte heute"
"Inschrift des Seins", text written by
Chiyoko Szlavnics for Bludenzer Tage 2008.
Translator: Ingeborg Springenschmidt.
Published with three drawings and one score excerpt.
Editors: Christophe Herndler, Florian Neuner.
Klever Verlag, Vienna, 2014.





Zustände zwischen Vision, Schrift und Bild
Portrait by Reinhard Ermen, with six drawings.
"und+ Komponisten, ihre Musik und ihre anderen Künste"
Catalogue published for Donaueschingen Musiktage 2014.
Editors: Armin Koehler, Bernd Künzig.
Schott Music, Mainz. 2014.





Gradients of Detail, Portrait CD
Performers: Dirk Rothbrust, Ensemble musikFabrik, Asasello Quartet
World Edition WE0022, December 2013. Cologne.



A few CDs are still available at MusikTexte.de !!!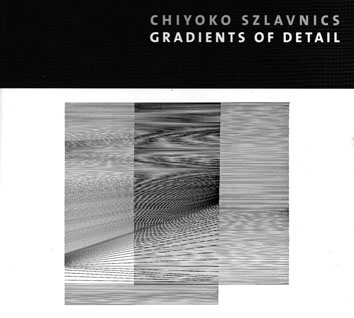 De la Musique au Son


By Makis Solomos
Szlavnics's composition, Gradients of Detail, is considered in detail.
Presses Universaires de Rennes, 2013.






Linien, Töne, Vibrationen. Die Kanadierin Chiyoko Szlavnics


Author: Matthias Entress.
MusikTexte 127, Dezember 2010. Cologne.
MusikTexte — Zeitschrift für Neue Musik






Notations 21


Text and Drawing.
Edited by Theresa Sauer, Mark Batty Publisher, 2009. New York.






Verknüpfung der Vergangenheit mit der Zukunft


German version of ″Reflections on James Tenney″
Translator: Gisela Gronemeyer
MusikTexte 112, pp. 63-65, February 2007. Cologne.
MusikTexte — Zeitschrift für Neue Musik






Reflections on James Tenney


Article describing Tenney as an influential composer for future generations.
Musicworks #97, pp.17-19, Spring 2007. Toronto.
Musicworks
(PDF)






Opening Ears: The Intimacy of the Detail of Sound


Article describes sources & development of Szlavnics' compositional method,
including the use of drawings as the basis for compositions.
Filigrane: Nouvelles Sensibilités, No. 4, pp. 37-57, Éditions Delatour, 2006. Paris.
Revuefiligrane
(PDF)






Redefining an Instrument


An interview with Robin Hayward.
Berlin-based Robin Hayward discusses his innovative work with the tuba.
Musicworks #89, pp. 30-39, Summer 2004. Toronto.
Musicworks
(PDF)





City Sites as Performance Settings


Article about the site-specific performance series ″Art in Open Spaces″.
Co-Curators: Bill James & Chiyoko Szlavnics. Toronto.
Musicworks #69, pp. 22-27, December 1997. Toronto.
Musicworks